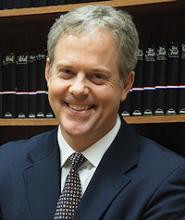 Associate Professor of Law
Burke Griggs joined the Washburn University law faculty in 2016 as a visiting associate professor. He teaches property law to first-year students and natural resources law to upper-division  students.
Prior to joining the faculty, Professor Griggs practiced water law in both the public and private sectors. As an assistant attorney general, he represented the State of Kansas in federal and interstate water matters, most prominently Kansas v. Nebraska, an original action to enforce the Republican River Compact against the State of Nebraska. For the first time in its history, the Supreme Court awarded disgorgement of the violating state's ill-gotten gains (Kansas v. Nebraska, 135 S.Ct. 1042 (2015)).
Professor Griggs also served as lead counsel for Kansas in the negotiations over the Kickapoo Tribe reserved water rights settlement, the first of its kind in Kansas. Outside of the litigation arena, Professor Griggs has advised Kansas' natural resources agencies on matters of natural resources law and policy. He worked in private practice at Stevens & Brand, LLP, in Lawrence, Kansas.